New Rector for Belvedere College SJ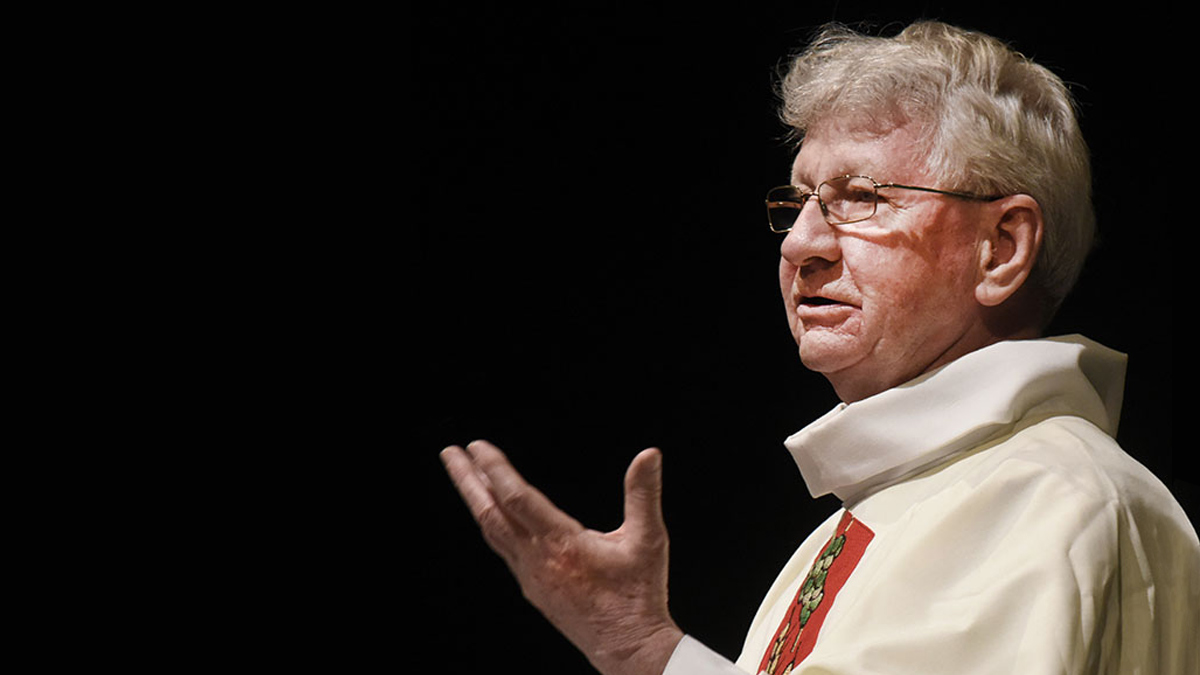 Fr Paddy Greene SJ has been appointed the new Rector of Belvedere College SJ by the Irish Jesuit Provincial. Fr Paddy has rich experience in school ministry and has worked in university support for the last ten years. He succeeds the beloved Derek Cassidy SJ who died peacefully on 30 March this year. Fr Paddy was introduced to staff and students on Friday morning 19 May and he celebrated the Graduation Mass for Rhetoric (sixth year) 2017 on Sunday 21 May.
Referring to the new Rector, Provincial Fr Moloney says: "I have told him that I see his appointment to Belvedere now as a prophetic moment for the College, calling it to a renewed response to its Jesuit mission. I am very grateful to him for assuming these new responsibilities".
After ordination in 1972, Fr Paddy taught Irish and English in Coláiste Iognáid, Galway, then an all-Irish school. He also served as Spiritual Father and subsequently as Career Guidance Teacher. He became Headmaster in 1980, a time of great change – girls were introduced into an all-Irish stream and then the two English streams became co-educational in 1984. Much building work and renovation was going on and the musical life of Coláiste Iognáid was being revived.
In 1988 Fr Paddy went to work on the Provincial's staff and, two years later, took up the position of co-ordinator of a new training course (later an M.A. course) in school chaplaincy and pastoral care in Mater Dei Institute of Education in Dublin. This gave many religious and, in due course, lay people the necessary professional training in a role of growing importance in Catholic schools.
For the last ten years Fr Paddy has worked with JUST (Jesuit University Support and Training) in Ballymun, which helps people from an educationally deprived area to gain access to university and graduate with degrees. He runs a popular dream course once a year in Manresa Jesuit Centre of Spirituality, Dublin, along with a monthly follow-up workshop on dream sharing. He also runs courses in 'the new universe story' and he has a special focus on the writings of Teilhard de Chardin SJ.
In his letter to the Chair of the Board of Management, Provincial Fr Moloney made a special note regarding the late Rector Derek Cassidy SJ: "I know that he is a great loss to the whole school community and very particularly to the headmaster, as his eloquent tribute at the funeral made so touchingly clear. It is a great grace that Paddy Greene is willing and available to take up the baton and fill Derek's shoes to the best of his ability".
Headmaster Gerry Foley commented: "We really appreciate the support of the Province and understand that their resources in terms of Jesuit personnel are limited and their continued provision of a Rector is greatly appreciated".
"Belvedere is one of the great schools of Ireland and it is a great honour for me to be chosen as Rector," says Fr Paddy, "It will be very difficult to follow in the footsteps of Fr Derek Cassidy who did such a wonderful job. I hope to be able to make a contribution."