Praying with anxiety: Ignatian survival tips
October 10, 2023 in Uncategorized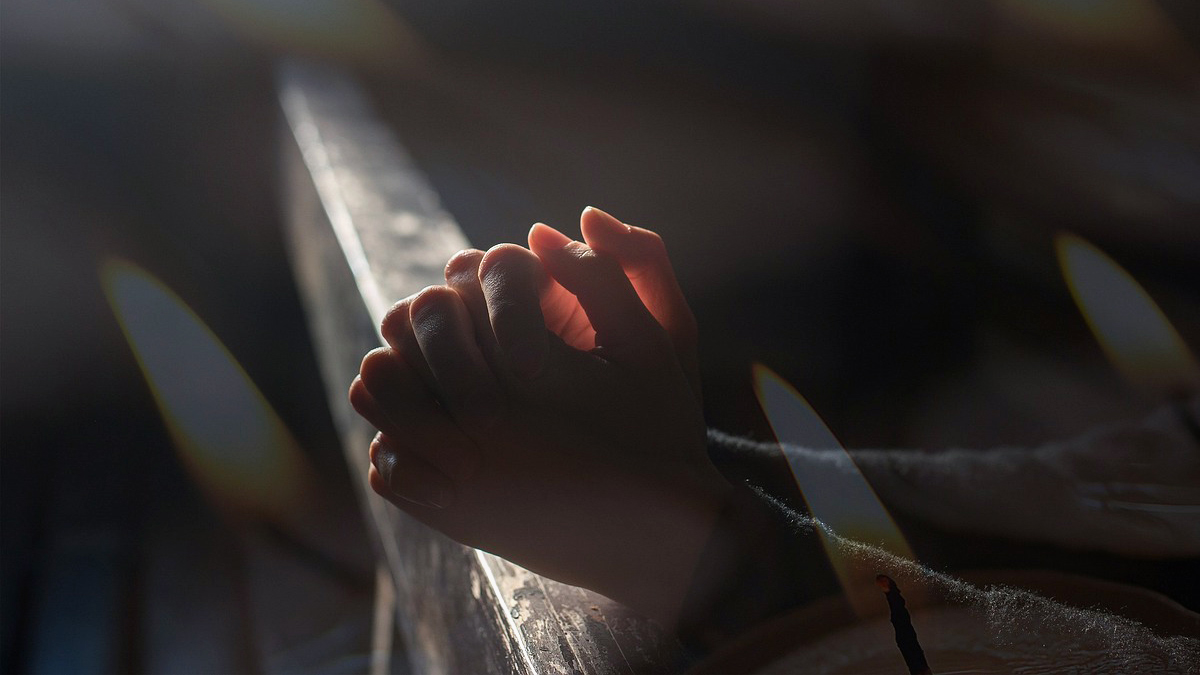 BRENDAN McMANUS SJ :: Anxiety and fear are not from God and are not good for people, and are not good motivators or 'counsellors'. In fact, most of the time, decisions made out of anxiety and fear are not good long-term decisions. Anxiety and fear often keep us locked in a narrow room with narrow options that see the worst in others and ourselves. There is no denying the immediacy and reality of the grip they have on people however, and how hard it is to get some relief from them. There are many approaches and therapies that can be of help, and it is good to get professional advice. It is also important to bring this to prayer and to enlist God's help in dealing with it. Imagine what it would be like to trust in the world and people, and to act without fear (not without caution though). Remember that God wants desperately to heal you and for you to be at peace.
Pray with the problem
The first thing to do is to ask God for help, just simply acknowledging that you are crippled with anxiety and asking God for help can be a good start. The other thing is to keep your focus on God, to continually pray and use God as an anchor in your day. This is real prayer, not just a pious thought or a superficial plea, but a real struggle with the demons you face daily. A helpful thing is to become aware of the issue and name it accurately, whether it is anxiety, fear or worry. The next step is to turn it into a prayer directly, praying with the problem and bringing God's grace directly to bear on it. The combination of admitting vulnerability and humbly asking for help seems to work. It is a prayer of 'handing over' or asking God for urgent help.
Find a mantra
Often people with anxiety cannot pray in the normal way, e.g. sitting in a quiet space praying, as this only amplifies the negative thoughts and ramps up the anxiety, maybe feeling that one has failed at prayer too, and sometimes that one has been abandoned by God. A mantra is a short phase that you repeat, and which helps to calm down, reduce the thoughts, and keep the focus on God. Try some of these:
"Into your hands Lord I commend my spirit" (Luke 23:46, Jesus quoting Psalm 31:5)
"Lord Jesus Christ, Son of God, have mercy on me, a sinner." (The Jesus Prayer [Footnote 1])
"For I know the plans I have for you, plans to prosper you and not to harm you, plans to give you hope and a future." (Jeremiah 29:11)
"I prayed to the Lord, and he answered me. He freed me from all my fears." (Psalm 34:4)
"Peace I leave with you, my peace I give you: not as the world gives. Let not your heart be troubled or afraid." (John 14:27)
As for the grace you need
Ask God specifically for what you want, plead for it. In Ignatian language it's known as 'asking for a grace'. It's a simple step but has a big impact, it gets you in touch with your desire and also God's desire for your healing. Something like, "help me be still within and listen", "give me inner peace", "show me a solution to this anxiety problem I'm wrestling with" or even "help me turn off these awful thoughts". Return to this desire regularly during the day and especially before prayer.
God is anti-anxiety
The bible tells us often that God is clearly against anxiety and worry as evidencing a lack of faith. Many times, we hear the phrase, 'do not be afraid', or 'do not worry'. Jesus continually tells people not to live from fear and instead to trust and believe. He also provides an antidote to fear in terms of trusting in God, handing over anxieties and worry, and living altered lives in the spirit. The bible emphasises that God is love, and God wants us to be free to live happy lives in the service of others. Anxiety obviously prevents happiness, connection with others and the world (our 'mission'), and often can seem to in opposition to real faith.
Recognise that anxiety is not good or from God
This sounds obvious, but it often seems reasonable to us to reduce our anxiety by giving into its demands. But you can easily become a slave and it can take over your life, introducing more and more rituals, habits and anxiety reducing behaviours. The problem is that anxiety takes over more and more and becomes the tyrant that it seeks to be. It can be difficult to identify it for what it is, a seductive temptation and a terrible master, something that is not good and not from God. In Ignatian terms recognising this means unmasking the seduction or deception, the false promises that anxiety makes, and putting it in its place: "I am more than my thoughts or anxiety, I am a child of God, worthy of peace of mind and inner calm."
Get into your body
Often anxiety revolves around thoughts and keeps you in your head. The important thing is to work against that and get the body going. Almost any exercise, such as walking, running, swimming, going to the gym etc., will help to counteract its effects. Cold water swimming especially has been shown to be helpful for mood and for counteracting negative effects. When you can do nothing else, just get out somewhere and walk; forget about the 'perfect place' or the 'perfect day'. Accept that now is enough and that God or the divine is with you wherever you are and no matter how unlikely it seems. Some contact with nature or the outdoors is really helpful, though. Remember that for the first 15-20 minutes or so, it can seem like a waste of time, you can be tortured by stress or thoughts going through your head and you have to trust that things will improve. This is where the mind tries to talk you out of it. Again, it helps to make a prayer of this: "Help me to get calm, I need a break". Make it real with whatever words come. A line from a Psalm can also help: "O God, you are my God, for you I long; I walk in the presence of the Lord; Be still and know that I am God."
Guard your moods and thought patterns
We need to filter and examine our thoughts, weigh them carefully and figure out if they are good/constructive or not. Often there are two voices speaking to us, one good and from God and another bad and destructive, anxiety and fear being the chief example of the latter. One of the key ways we unmask false thoughts is reflection and learning to listen to our own inner voice. This has traditionally been called conscience but more accurately could be called awareness or consciousness. There is an inner sense or 'nose' that we can develop for deciding which voice to listen to. There is a palpable sense of unease, 'wrongness' and negativity that accompanies the 'bad' voice, and equally a sense of rightness, ease and life that accompanies the 'good voice'. What can be helpful here is practicing reflection: building in a filter on the aftereffects of experiences or thoughts. It is like looking back on an experience as if you were watching through the eyes of a wise and compassionate person, and seeing clearly what was good or deceptive and unhelpful. Inevitably it demands action, to replace the negative thoughts with positive ones (using the principles of CBT [Footnote 2]), and gradually move in the direction of the light. It is a skill that can be practised.
The use of the 'Examen'
The Examen, or Review of the Day, literally means an examination of consciousness; of thoughts and feelings, desires and pressures that operate inside of us and have a huge influence. A key reflective practice is being aware of our feelings without getting pulled into them, this takes practice to notice that we are not our feelings, there is a 'gap' between us and them. Working on this 'gap' is crucial obviously. This is basic self-awareness and knowledge that allows us to moderate our emotions and not be a victim of temporary feelings. The purpose of this reflection is to come aware of this inner voice and self-talk, to take a step back from being in the stream and see where the stream is bringing me… this is the work of discernment e.g. anxiety can have a considerable influence on a person and gradually take over if they are not careful. To be unaware is to let chaos reign unchecked.
A process for praying with anxiety:
Prepare yourself; clear a space, use music or breathing to focus, do a body scan, ask yourself how you are physically, emotionally & spiritually. Notice how the anxiety manifests in your body.
Ask for a grace; ask for what you want sure directly, bring your 'mess' to mind, name what you want from God, formulate it as a grace, a gift from God.
Make the prayer; use one of the mantras above.
Make up a ritual/action which expresses your desire for inner peace e.g. open your hands asking for God's peace, then bring your hands to your heart asking for this peace to be experienced within.
Reflect at the end: look back over the prayer, what stands out, where were you distracted, what was God saying to you. What would you change next time?
Closing prayer: give thanks for what you have received, ask forgiveness for mistakes, hand it all over to God, pray for others (petition)
Act: commit yourself to some action, ask for advice or get some help, mend a relationship, change your fearful habits, act against negative thoughts, do more prayer etc.
—————-
https://en.wikipedia.org/wiki/Jesus_Prayer
Cognitive Behaviour Therapy (CBT) is based on the concept that negative thoughts and feelings like anxiety and fear, can influence physical sensations and actions, and equally changing thinking and acting patterns can help break the negative cycle. https://www.apa.org/ptsd-guideline/patients-and-families/cognitive-behavioral