Spiritual director honoured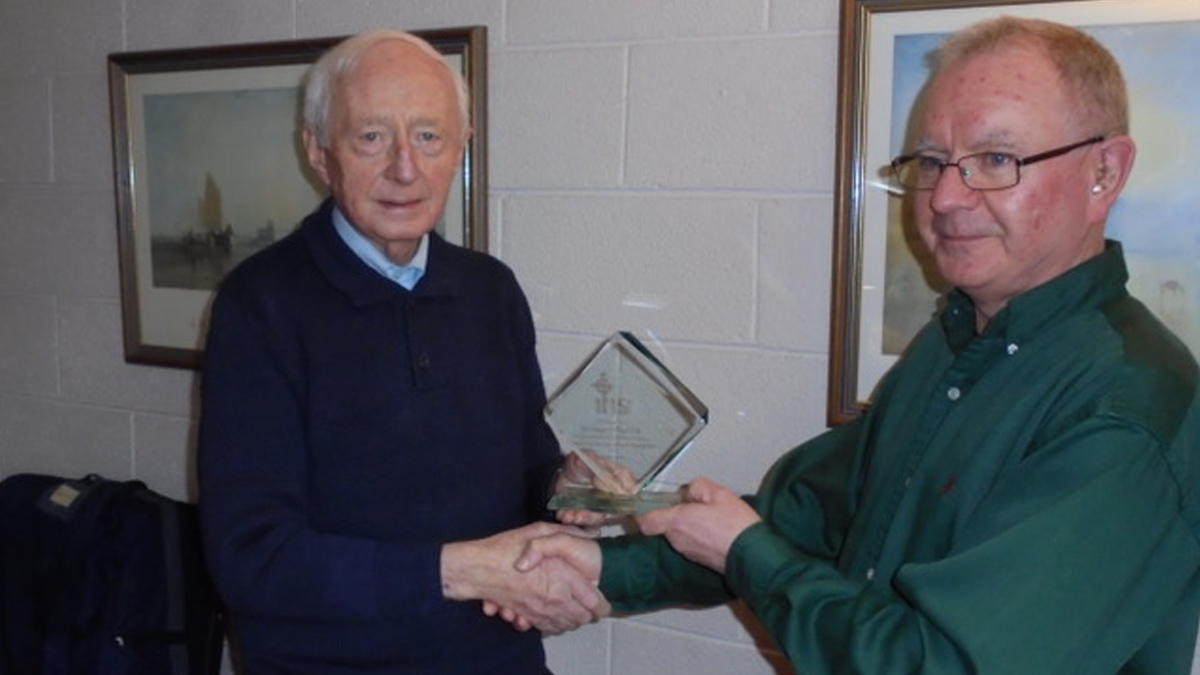 Fergus O'Keefe SJ (left of photo) was honoured at the Irish Jesuit Spirituality Sector Meeting in Manresa Centre of Spirituality in Dublin for his years of service and devotion to the Lay Retreat Association of Ireland on Tuesday 10 April, 2018. Spirituality Delegate Brendan McManus SJ (right of photo) presented him with a plaque in the company of other Jesuits including Eddie Cosgrove, Michael O. Gallagher, and Piaras Jackson.
"Fergus was spiritual director and chaplain to the largely lay organisation for 10 years and worked tirelessly as part of the team delivering retreats to large number of lay people," says Brendan McManus SJ. "He was an active member of the Spirituality Sector over the years and along with Christian Life Community (CLC) and the retreat centres of Manresa and Galway, it was fitting to pay tribute to him in this way."
The Lay Retreat Association was founded in Rathfarnham Castle Retreat House in 1945 by Fr Eugene Ward SJ and nine enthusiastic promoters. The last surviving founding promoter of the 'Layman's Retreat Association', as it was known, was Brother Joe Cleary SJ, who died in 2012. The association arose out of a retreat movement that had its origins in Northern France. In 1909, Fr Willie Doyle SJ (who later became a celebrated First World War chaplain) first proposed the idea of a retreat house in Dublin for working men. Eventually, the retreat house at Rathfarnham Castle opened its doors in 1921/22, when there were 722 retreatants. The first Director of the Retreat House, Fr Richard Devane, ascribed the success of the retreats to the inspiration and prayers of Fr Willie Doyle and to the practical support and intercession of Fr John Sullivan, Rector of the Rathfarnham community at the time, who was beatified last year.
In 1985, after the closure of the Rathfarnham retreat house, the late John Grace and the late Peter Jordan, with great courage and with unshakeable faith in the Holy Spirit – a marked characteristic of LRA officers over the years – set about establishing a radically different association, from their new base at Milltown Park. It became a model of what the Church needs today, a lay organisation that runs and finances itself. In a renewed partnership with the Jesuits, who undertook to provide retreat directors, they organised retreats at Milltown Park, Manresa House, St Mary's Tallaght, Emmaus, Avila and Ballyvaloo in Wexford.
The day retreats delivered by the LRA quickly grew in popularity as many people responded to the simple invitation taken from scripture, "Come away by yourselves to a quiet place and rest awhile" [Mk 6:31]. The retreat day at Milltown Park included talks, guided prayer, the Sacrament of Reconciliation, Mass, and Blessing of the Sick. Those who came to the retreats were supported in prayer and fellowship by the other retreatants as all who came to these retreats joyfully mingled and shared the blessings of the day.
"The LRA ceased its ministry in 2016 after seven decades of offering retreats to lay people," says Fr Brendan McManus. "With the help of Jesuit spiritual directors such as Fergus, lay members of the association had organised full annual programmes of short retreats every year since 1945. The work of the LRA has reached thousands of people over the years, helping them to come away for a quiet time and find space to encounter God. The LRA discerned the difficult decision to discontinue its ministry, due to the ageing profile of its officers, all of whom were volunteers. The officers of the association were most thankful and appreciative to all who have supported its work down through the years and to all who contributed to the development of the apostolate."