A book about birds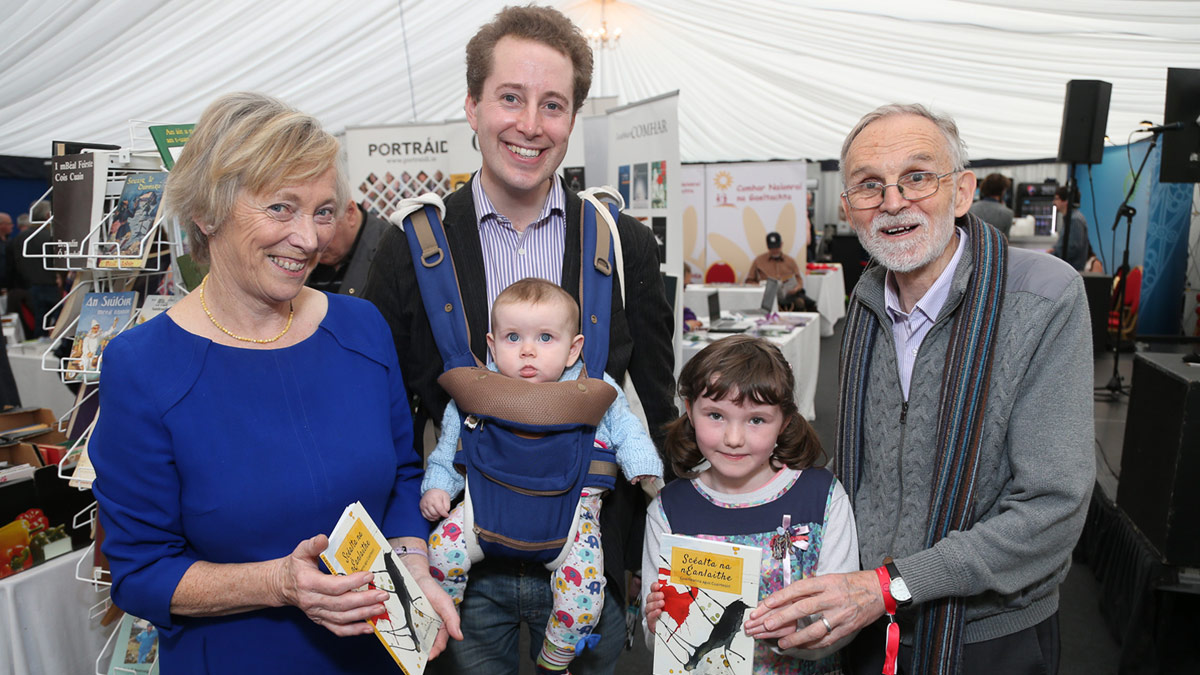 An amazing 10,000 people attended the Irish festival Oireacthas na Samhna in Killarney, 1-5 October. The Jesuit Irish Language publishing house, Timire-FS, was present, and their latest publication, Scéalta na nÉanlaithe ('Stories of the birds'), was launched by RTE's Éanna Ní Lamhna. There was 'craic agus ceol' over the week, as Frainc Mac Brádaigh SJ Director of An Timire-FS, reports.
An bhfuil beagán Gaeilge agat?
Have you a little Irish?
At the time of the change of language ó Ghaeilge go Béarla, many macaronic songs were written. Sna hámhráin seo bhíodh véarsa i nGaeilge, and the next verse would be in English.
Uaireanta is aistriúchán ar an nGaeilge a bhíodh sa véarsa Béarla, and at other times the Irish would not be translated. The reader would have to depend on her/his knowledge of written Irish. An oibreodh sin duitse anseo? Would it be fun for you?
An mbeadh ionadh ort a fháil amach go raibh suas le 10,000 duine ag Oireachtas na Samhna i gCill Airne, idir an an 1ú – 5ú Samhain i mbliana? The festival was all held in the complex between the INEC / Gleneagle and Brehon Hotels in Killarney. Bhí an Timire–FS ann, that is the Jesuit Irish Language publishing house. Agus sheol muid leabhar tábhachtach ar an dtimpellacht ann, Scéalta na nÉanlaithe. Tá tábhacht nach beag leis an dtimpeallacht inniu. And we were very proud to have Éanna Ní Lamhna in Killarney with us to launch this important book. Iar-Uachtarán ar 'An Taisce' agus ar 'The Tree Council of Ireland í Éanna, is bitheolaí aitheanta í agus áiríodh í mar dhuine den 100 duine is mó tionchar in Éirinn i 2012. She is also a gracious and dedicated lady.
We think 'Scéalta an nÉanlaithe' is both a beautiful and an important book. It presents the birds native to our land and those who visit here at different times of the year. The presentation is both pictorial and in clear Irish. The photos in 'Scéalta an nÉanlaithe' are courtesy of Birdwatch Ireland. 'Bríd Bhán' an older woman, introduces the birds to an early teenage boy called 'Naoise', during holiday breaks from school. But not only does Bríd Bhán introduce the birds to Naoise she tells him of the journeys they make to get to Ireland and of the risks involved, particularly due to global warming and the resultant climate change across our world.
Bhí an-áthas orainn an leabhar seo a chur os comhair phobal na Gaeilge ag an Oireachtas. Tháinig go leor daoine le héisteacht le hÉanna agus í ag cur síos ar an leabhar a scríobh Helen Ó Murchú agus a bhuaigh duais Oireachtais an bhliain seo caite i réimse 'Saothar Creidimh'. Ó foilsíodh Laudató Sí, Imlitir an Phápa Proinsias ar an Éiceolaíocht tuigimid an chaoi a bhfuil aire dár Siúr an Domhan, aire do na bráithre is do na deirfiúracha is lú acmhaine agus grá Dé ceangailte go dlúth le chéile.
The presentation is lively, the book, designed by Messenger Publications is well laid out. It is a good read, both for an early teenager and for any adult interested in learning about our birds and about the present ecological situation, without being heavy or preachy.
Dhéanfadh sé bronnanas deas faoi Nollaig. Tá súil againn go léifear ar fud an hÉireann é, go gcuirfidh sé le lenár n-eolas ar na héanlaithe agus ar an domhan mar atá faoi láthair.
Frainc Mac Brádaigh SJ