A time for reading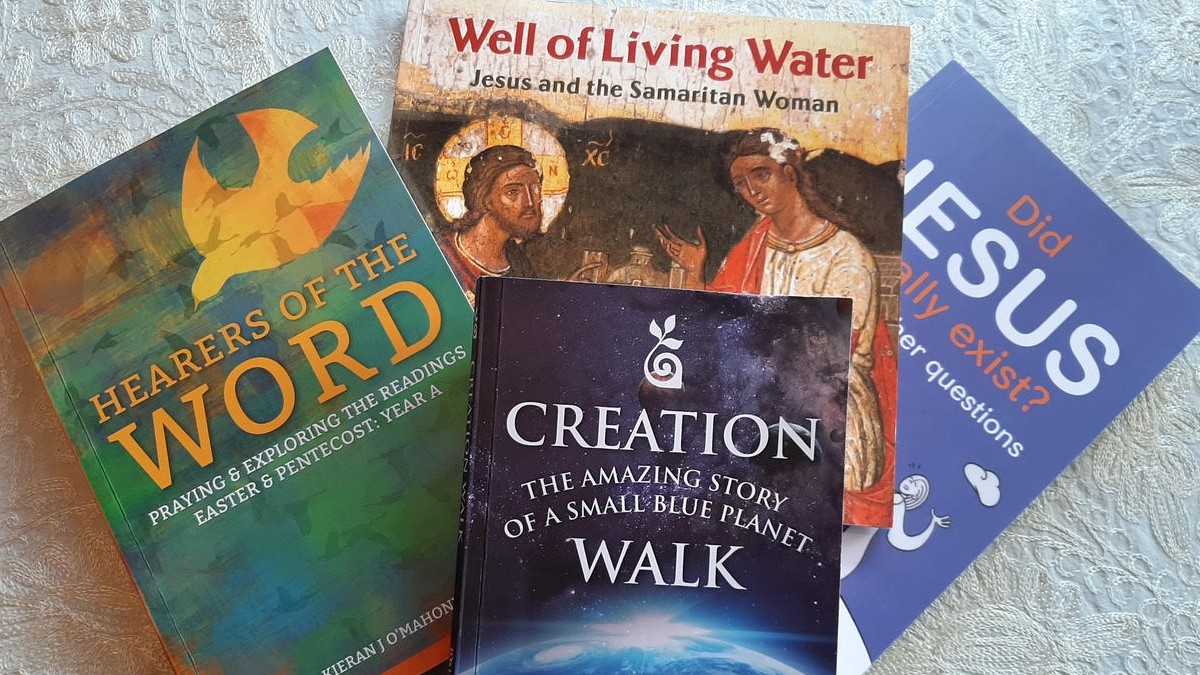 Messenger Publications are offering a range of books on scripture and Christian faith that invite people to a greater intimacy with Jesus and a compassionate care for our common home. Free postage on all orders to Ireland and the UK and quick delivery is also offered at this time.
Fr Donal Neary SJ, editor of Messenger Publications says: "It's a very varied collection which encompasses spirituality, faith, scripture, the environment and art, and one or two other books are coming out soon". Below is a round-up of books available for purchase.
Creation Walk: The Amazing Story of a Small Blue Planet by Brian Grogan SJ
Science and Scripture collaborate seamlessly to tell the Creation story in this new book by popular author Brian Grogan SJ. Merging the insights of these distinct domains results in an enriching and holistic factual narrative through the prism of Christian faith.
Fr Neary says, "There are a number of chapters about the amazing story of 'our blue planet', as Brian Grogan describes it, and you can meditate and do a page a day on it. You can personally reflect and do your own creation walk experience".
Did Jesus Really Exist? and 51 other questions by Nikolaas Sintobin SJ
This book by a Dutch Jesuit takes the form of a series of questions that arise in everyday faith life, with answers and food for further thought or discussion: What do people do in heaven? Does suffering make sense? Are the other religions wrong? Providing an accessible and engaging outline of the Christian faith, the book addresses these and other fundamental faith questions in a light-hearted yet theologically sound way.
Fr Neary says, "The Tablet recently described the book as 'Light-hearted yet theologically sound answers to leading questions about the Christian faith'. It's an interesting book because it's noted as being popular style, with 300 word answers to the questions, but nonetheless having theological depth".
Hearers of The Word – Praying and Exploring the Readings for Easter to Pentecost: Year A by Kieran J O'Mahony OSA
Exploring the context and background to Seasonal readings, Fr O'Mahony hopes to make them available for personal prayer and as a preparation for taking part in the Sunday liturgy. His resources on the readings are hugely popular among religious and others. This is the third volume covering Easter and Pentecost.
Fr Neary says, "It's a very good introduction to Sunday's readings. It's not just a commentary, it's not just a homily, it's scripture background, it's more academic than popular, and Kieran is very well known as a scripture scholar and teacher particularly in Dublin and internationally as well".
Raphael's World by Michael Collins
Hailed by his contemporaries as "the divine painter," Raphael Sanzio of Urbino (1483-1520) was one of the greatest artists of the Italian Renaissance. Published as the 500th anniversary of the death of Raphael occurred in April 2020, this new book by Michael Collins brings the reader into the ducal court of Urbino, explores the complex and dramatically changing landscape in which the artist flourished and introduces the reader to the fascinating panoply of his patrons.
Fr Neary says, "Raphael's World is both a history of the painter's patrons and some very good illustrations of his paintings, and you'll see his paintings in different places in the Vatican".
Well of Living Water: Jesus and the Samaritan Woman by Magdalen Lawler SND
Inspired by an an icon of the Samaritan Woman at the Well, author Magdalen Lawler SND studied the gospel passage in detail and researched many accounts of life in first-century Palestine. Now her research and retreats are brought together in this beautifully illustrated series of reflections on life in biblical times along with Gospel readings and Ignatian prayers.
Click here to listen to Sr Lawler talking about her book».
Finally, Fr Neary says: "Another publication coming out this week is Theology and Ecology by Dermot Lane, a book on the link between theology and the environment and all the different questions regarding climate change, and it's coming out to celebrate the fifth anniversary of Laudato Si'. Dermot Lane is an internationally known Dublin-based theologian".